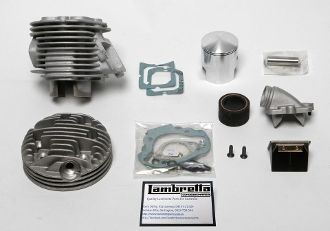 Monza 225
Complete cylinder kit incl. barrel, head, piston, piston rings, piston clips, gudgeon pin, inlet manifold, reed valve, carb rubber, gaskets, screws, nuts, shims. 
The Monza and Imola cylinder kits are a relatively close copy of the TS-1. They differ in various details like the inlet and transfer ports, 
The alloy cylinder with Nikasil plating is on the same level in terms of quality. Especially nice are the thin and strong piston rings and the head which has additional centering pins. The reed valve is sunk into the inlet manifold  which gives additional room for the carburettor and rubber hose. So no panel cutting is needed. The gasket surfaces are big enough to do further tuning without welding on.
With all the parts it is a well thought through kit and can be seen as a competitive alternative to the TS-1. 
Reviews