Ancillotti Clubman exhaust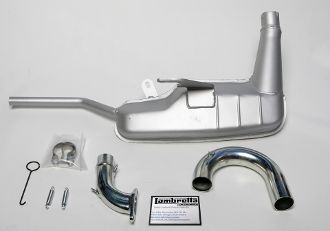 Ancillotti Clubman exhaust
This ANCILLOTTI exhaust combines the 60's old school racing look with a performance, that - with a performance increase of 20% (and more) - goes to the top of the class. It even comes witha  slopped side so that you don't scratch it as you lean around corners!
Italian manufactured, this exhaust system shows classy workmanship coupled with durability. It's silver painted body and two piece u-bend keeps it's promise of long life and driving pleasure. Thick quality metal construction and well thought out engineering lend the ANCILLOTTI a pleasant damped sound close to the original exhaust, guaranteed to not disturb your neighbor's sleep. Performance increase throughout the complete rpm bandwidth gives your Lammy the necessary extra power in combination with original MUGELLO/RAPIDO or IMOLA/MONZA/TS1 cylinders. 
NOTE: Even though it shows the u-bend in the picture, Standard or TS1 u-bends are sold seperately. This makes it more flexible for you as you can order exactly what you need.
Reviews